AAXA Technologies unveils P2 Jr Pico Projector with 55 Lumens, HDMI input, and a sub $200 retail price.
AAXA's P2 Jr Pico Projector now features 55 Lumens, HDMI Input, and a low price point 
Tustin, CA, April 15, 2013
AAXA Technologies Inc, a global leader in pico projection technology has unveiled the P2 Jr a next generation pico projector based on AAXA's amazingly small 4024 optical engine.  The tiny 4024 light engine is about the size of three stacked half-dollars and is able to produce a giant 55 lumens of brightness – more than many flashlights.   At the heart of this pico projector engine is Texas Instruments Digital Light Processing (DLP) technology, mated to 15,000 hour LEDs and advanced micro-optics.  The combined result is a pico projector capable of producing a vivid 55 lumen picture, 1000:1 contrast, Vibrant-Color image.
HDMI Direct Input
The P2 Jr accepts a High Definition digital video input of up to 1080P (1920×1080) through its mini-HDMI port.  Video sources can include cell phones, tablets, blu-ray players, and video game consoles.  An additional video input is the VGA harness cable of accepting XGA resolution video from a variety of sources including laptop computers.
Lithium Ion Battery
The P2 Jr comes with a built-in rechargeable lithium ion battery.  With this battery the P2 Jr can operate in both battery and DC power mode.   Battery operating time is 60 minutes on a single charge or indefinitely when plugged into an external power source.
Media Power House
The P2 Jr Pico Projector lets users spontaneously share photos, videos or other digital media with family and friends anytime, anywhere.  With its powerful ARM-based MP4 Media Player the P2 Jr can play 720p Videos, Pictures, and even Text and Music from a USB stick or Micro SD Card of up to 16GB.  With the P2 Jr an entire library of movies can be preloaded for playback.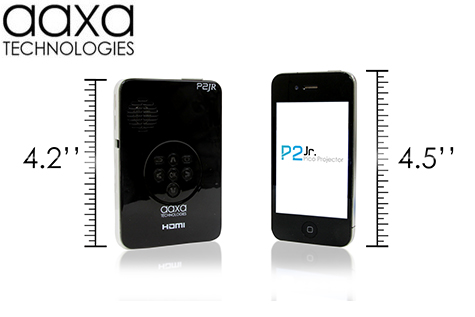 A True Pocket Projector
There's always room for the P2 Jr. At less than 4.2" long, 2.9" wide, and .82" tall the P2 Jr is a true pocket projector that fits comfortably in a pocket or purse.  The P2 Jr epitomizes mobility with a premium-grade lithium ion battery capable of 60+ minutes of operation anytime, anywhere.  Coupled with the onboard media player and speaker, the P2 Jr can double as a pico projector or an all-in-one mobile multimedia center.
About AAXA
AAXA Technologies Inc was founded in 2008 as a developer and manufacturer of a new class of projector known as "micro" projectors and "pico" projectors. AAXA's core technology is based on small LCoS (Liquid Crystal on Silicon) and DLP (Digital Light Processing) imagers mated to LED (light emitting diode) and Laser light-sources that makes micro projectors and pico sized projectors possible. In 2010 AAXA launched the world's first laser pico projector and today remains a leader in mini-projector technology. AAXA holds several patents in optical and LCoS designs and manufactures the majority of its products in China, with core technological development occurring in both the Silicon Valley, California and China.