Incredisonic recently released a new projector on the market, the PMJ-400.  We don't blame you if you haven't heard of this brand of projectors before, although they've been manufacturing different electronics for awhile this is actually their first projector ever, and we have to say that it is a pretty good start.  To see how Incredisonics first ever projector compares to the rest of the market we have decided to do a showdown between it and one of the more popular pico projectors that has been on the market for some time now, the AAXA P300.  Both projectors are similar in size, specs, and features so we're really interested in how this is going to go down, we're going to be covering everything from brightness to boot-up time and also a detailed spec by spec break down to completely show how each of these projectors compare.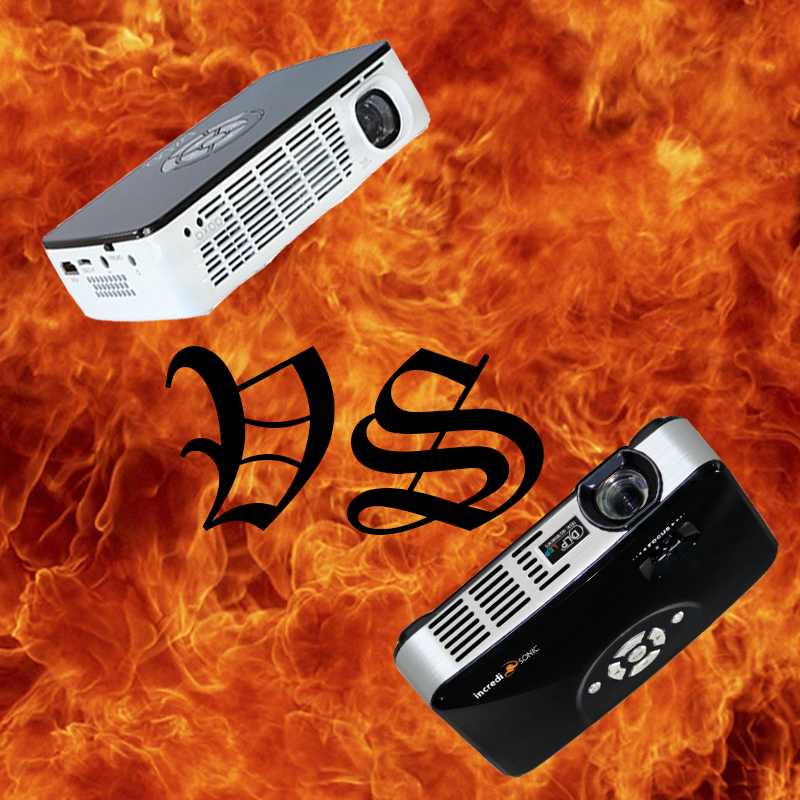 Specs:
| | | |
| --- | --- | --- |
| | PMJ-400 | P300 |
| Lumens | 400 | 300 |
| Light Source | LED | LED |
| Native Resolution | 1280×800 | 1280×800 |
| Max Resolution | 1920×1080 | 1920×1080 |
| Max Image Size | 1920×1080 | 120 Inch |
| Contrast Ratio | 2000:1 | 2000:1 |
| Audio | 1 x 3w Mono Speaker | 2 x 1w Stereo Speakers |
| Weight | 1.5 Lbs | 1.3 Lbs |
| Size | 5.90″(L) x 4.25″(W) x 1.77″(H) | 5.90″(L) x 3.8″(W) x 1.5″(H) |
| Optional Battery | No | Yes |
| Focus | Manual | Manual |
| Keystone | Yes (Automatic) | Yes (Manual) |
| Inputs | HDMI, VGA, Composite, 3.5mm Audio Out, USB | HDMI, Mini-VGA, Composite, 3.5mm Audio Out, USB, SD Card |
| Price |  $499.95 |  $419.00 |
So as you can see, these projectors are very similar in almost every aspect, it looks like the incredisonic is claiming a slightly higher lumen count than the AAXA and the P300 is claiming better sound and a smaller package.  Specs aren't everything though, we wanted to see how these two units really performed so we brought one of each in and put them head to head in a test to see which unit actually looked better.
Comparison:
The first thing that we noticed right out of the box about the two units is how equal in size they are.  When set next to each other its almost hard to determine which unit is actually smaller however from the spec sheet we know that the AAXA is negligibly smaller.  Another thing we noticed was weight difference.  You wouldn't think that .2 of a pound would make a large difference in how heavy the unit feels but we found that it really does when its in your hand.  Is it going to stop you from throwing either one in your bag and taking it with you?  Definitely not and we doubt you would notice the difference however when you're holding each one the incredisonic is definitely heavier.  As far as cosmetic details go we really liked both designs, the black on white P300 has a certain classy-ness to it while the gold on black design of the incredisonic paired well with each other,  both have glossy tops and similar button layouts.
Both units included the cables we needed to hook it up to basically anything we needed minus an HDMI cable, however it is very common for projectors not to include an HDMI cable now-a-days so thats not something that bothered us.  We wanted to see exactly how the picture of these two units compared so we put them on their tripods and loaded up the new Star Wars trailer onto USB sticks and set them to see just what they looked like.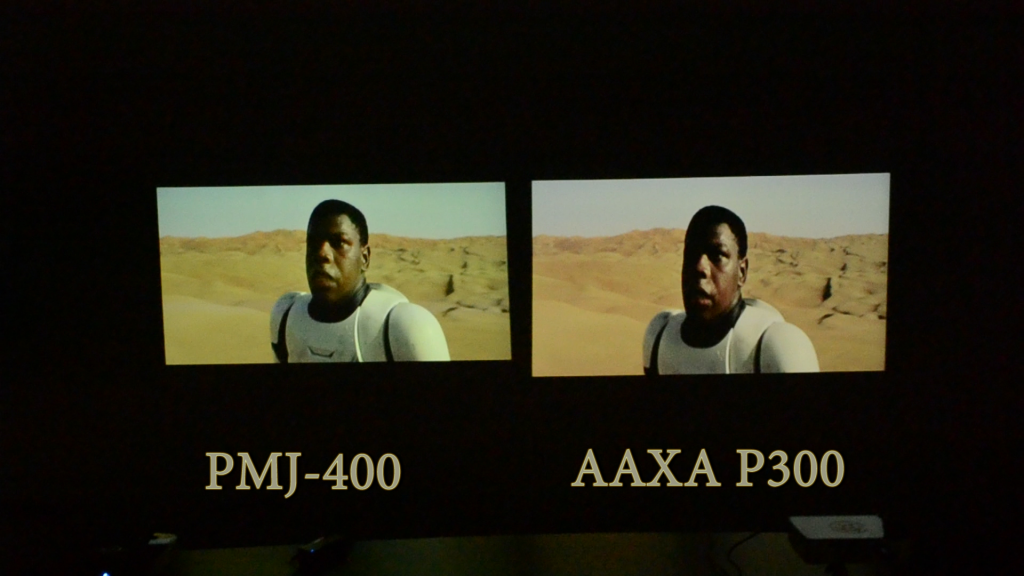 As you can see, although these projectors are close in specifications, they do not even come close to producing the same image.
Before anyone says that that the projectors are at different angles, we would like to state that they are actually at exactly the same distance from the wall in this image.  The AAXA P300 has a slightly better throw ratio which allows it to create a larger image at the same distance as the PMJ-400.
In addition, the color temperature on the PMJ-400 seems to have bit too much green in it which is especially noticeable in the skin tones of the actor and in the sand.  Now, to be fair, these tests were conducted straight out of the box with no calibration, we're sure that the Incredisonic could look better given some adjustments but we were impressed that the AAXA "just worked" right out of the box.  The Contrast ratio seems to be very similar and we're thinking that both units are correct in their claim of 2000:1.
The sound quality of the units are almost identical, the AAXA has two 1 watt speakers which do offer high quality audio but at a low volume and the incredisonic has one 3 watt speaker that allows for slightly higher volume but reduced audio quality.  All in all wed say that the audio for either unit is not a selling point.
Lastly, the brightness, even on the menu it's clear that these two units are very, very close in brightness.  We actually already know that the P300's claim at 300 lumens is accurate as we have previously reviewed this unit and put it up to the light meter test, that being said we're pretty sure that the incredisonic's claim of 400 lumens can't be fully correct.  When you put two projectors with different brightness-es next to each other the difference between the two becomes very obvious, as you can see in the picture the brightness looks almost the same between the two units.  Since we have confirmed the brightness of the P300 we can safely assume that the PMJ-400 is actually closer to 300 lumens than it is 400.
Other than that the units were both very easy to use and had similar start-up times of about 7-10 seconds which is very impressive, our only gripe was that the PMJ-400 does not have a dedicated "back" button for use in the media player and menus, this was easy to work around by using the remote or navigating to the menu and then out of it but we thought having the button would have been a nice touch.
We made a video comparing the video quality of both units so that you can see them in action both with a live action video and animation for yourself.

Pros and Cons:
PMJ-400:
Pros:
– Higher Volume
– Focus knob instead of wheel
-Automatic Keystone
Cons:
– Color Temperature needs to be adjusted out of the box
– Brightness is lower than expected
– Lower audio quality
– No SD card support
P300:
Pros:
-Better audio quality
-Color temperatures are realistic out of the box
-Has a "back" button for ease of use
-Supports SD Cards
Cons:
-Quieter audio
-Manual Keystone
Summary:
After reviewing both of these projectors we have to say that we can't find a whole lot that is different about them.  The AAXA does seem to have a slightly better image quality and a better throw ratio but the PMJ-400 is not bad by any means.  The PMJ-400 does feature full-sized inputs which is nice but since AAXA includes all needed cables to use the projector we didn't find the smaller ports on the P300 to be an issue.  The sound quality, build quality, weight, and size of the units all seem to be almost identical.
We think the biggest con here is that the PMJ-400 comes in at $80 over the P300, and with the brightness being almost identical we don't if it would be worth the price.  Don't get us wrong, for incredisonic's first venture into the market of projectors it was a great first try and we're excited to see what they come out with in the future although we do think that for this product to be able to compete in the market it definitely needs to be priced lower.