So, you love hiking and you are a movie lover, what's more ideal than watching a movie with your family and friends by the campfire? The idea is brilliant yet you might be hesitant to host an outdoor movie night during your trip since the gears you need might add extra weight. The good news is that in 2021, we have seen new portable projectors which are lightweight enough for a fantastic movie night under the stars! Below are the 4 best portable projectors for outdoor movies that we like
At 1080P Native Full HD Resolution and 800 ANSI Lumens brightness, the XGIMI Halo portable projector is perfect for streaming content and watching movies while camping. The XGIMI Halo Projector is also equipped with 10W Harman Kardon Speakers that would be decent for an indoor movie night. The battery of the XGIMI Halo Projector is advertised to last for 2 hours at maximum. Equipped with Android TV, the XGIMI is capable of providing various streaming apps to the viewers such as Hulu, YouTube, Disney +, HBO Max, and so on. However, this smart feature will not come in handy if you camping in a location where wifi is not available.
Cons: expensive ($799), bulky (4.47 x 5.71 x 6.75 inches), and heavy (3.53lbs)
Like the XGIMI Halo Projector, the new movie projector by AAXA Technologies called M7 Mini Portable Projector is also equipped with Native 1080 Full HD Resolution and it is also 4K FPS Ready. The AAXA M7 also has a better battery life at 3-hour runtime in ECO Mode, and a better brightness at 1200 LED Lumen (650 LED Lumens on battery). At half the price of the XGIMI Halo Projector, the AAXA M7 Projector is smaller (7.3″ x 6.4″ x 1.85") and lighter (2.99"). The price of the AAXA M7 Mini Projector is fantastic for what it offers. However, the AAXA M7 Projector has less competitive speakers (4 Watts) and no wireless mirroring technologies nor smart features. Hence, you might want to load your movie to a media player such as a flash drive, USB Stick, MicroSD/ TF Card and connect it to the M7 Mini Projector. The AAXA M7 Mini Projector is compatible with HDMI devices such as laptop or Nintendo Switch.
Cons: not "smart", no horizontal keystone (it has 40-degree vertical keystone)
The AAXA P7 Mini Projector is probably one of the most popular projectors in its category. Measures just 4.7″ x 4.4″ x 2.7″ and 1.48 lbs – the P7 projector fits nicely in your laptop bag or briefcase for business travel and outdoor camping. This is the most compact projector in our list that has native 1080P Full HD Resolution for an outdoor movie. The AAXA P7 Mini projector has multiple inputs: USB, USB, USB—C for Mirroring, HDMI, Composite AV, and TFCard/ MicroSD. The AAXA P7 projector is cheaper than the AAXA M7 Projector for a reason: its battery lasts only 90-minute and its brightness is also lower (600 LED Lumen).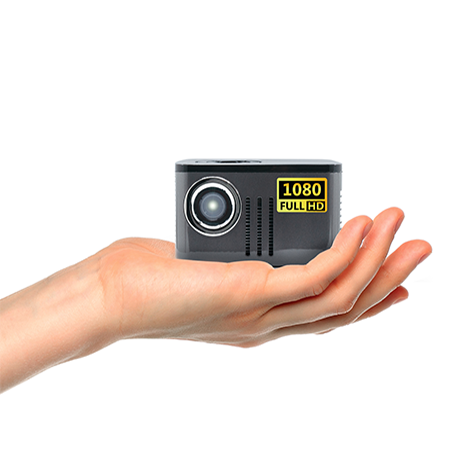 Cons: not "smart", no horizontal keystone (it has 40-degree vertical keystone)
Weighing just 104lbs, the Anker Nebula Capsule is the smallest truly portable projector for an outdoor movie in our least. The Anker Nebula Capsule is also slightly more affordable than the other projectors as it costs only $299.99 on Amazon. Notice that its native resolution is quite humble at 480P and its image brightness is just 100 Lumen. Regardless, the Anker Nebula Capsule has various connections: HDMI, USB, Bluetooth, and Wi-Fi.
Cons: low brightness, low resolution