iPhone projector, or standalone pico projector, we have the answer
Right now there are three main pico projectors made specifically for the iPhone.  There is the Brookstone iPhone case which is the newest one getting all the buzz for the holiday season. The mili Pro v2.0 has been around for quite a while but never seemed to catch on because of the giant price tag.  The is also the Thanko pico projector attachment just connects to the bottom of any iPod, iPhone, or iPad.
Brookstone iPhone case/projector/battery pack
$229.99,
15 lumen,
64×360 native display
.5w speaker
2100mAh battery with ability to power iPhone
Mili Pro v2.0, iPhone, iPad, iPod Video Projector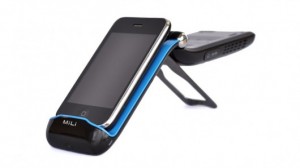 $398.99
10 lumen
native 640×480 resolution
integrated speakers

Thanko iPhone, iPad, iPod Video Projector
$202
10 lumen
320×240 resolution
Analysis
From looking at all three, I'd have to say that the Brookstone projector probably gives you the most bang for the bug.  With its recharging ability it won't put a drain on your iPhone.  One MAJOR flaw I did notice is that headphone jack is placed right above the projectors lens.  If you wanted to put in some headphones and watch some videos , you might have some problems.
Main problems
The other main problem I have with these projectors is the lumens.  With 10 and 12 lumens you will need very dim ambient light to get good images.  You can get a standalone 10 lumen pico projector like the aaxa p1 jr for 100 bucks and it can hook up to iPhones through its a/v jack.  The don't think being made specifically for apple devices constitutes the dramatic increase in price.
Solution: get a stand alone pico projector
There are plenty of 50-80 lumen projectors available in the $200-$300 dollar price range.  We had the chance to test the AAXA p4 and we love the 80 lumens that it has.  For $339 we think its well worth the price over any of these specifically tailored iPhone projectors.