Audio/Visual presentations in the past were things that you not only needed large bulky equipment for but also something that had a very limited use and needed someone to run while the presenter was up giving the presentation.  More recently things like Bluetooth remotes and smart mice have allowed presenters to at least control the input source for the presentation remotely reducing the need for a person sitting at a desk running the whole thing.  The ODIN smart projector however takes these problems and provides a solution to every one of them in a compact, battery powered package that can easily be taken anywhere you need to go to make your presentation.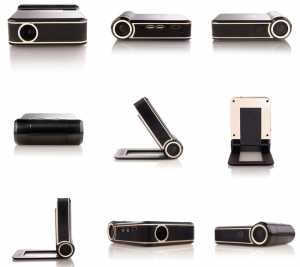 The first thing we'd like to point out is that the ODIN is not the first android powered Pico projector, in fact it's far from it.  There have been a handful of android powered Pico projectors that have been offered in multiple levels of brightness and portability.   Some of the more notable ones would be the AAXA LED Android which is a unit that sports the highest brightness by far at 550 lumens but does lack a battery and therefore is not as portable, the FAVI A3-Wifi which does have a battery and is ultraportable, however is LCOS and only runs at 30 lumens therefor making it very dim, and lastly the "Lightplay" smart Pico projector which is only slightly brighter than the A3 at 50 lumens, but has a larger body.  All of these smart projectors give you a similar experience where you can use the projector to download apps from the google play store, connect a mouse or keyboard, and has things like Bluetooth and WIFI connectivity.  Another thing they all have in common is that they tend to sport slower hardware similar to older tablets, making the android experience a bit laggy on all of the models we have tried out.
So, what makes the ODIN different?  Well first of all, the ODIN uses DLP technology from Texas Instruments just like the LED android from AAXA.  This is generally considered a higher quality imaging source than LCOS because it is very sharp and has a good vibration reduction which allows the image to stay sharp even if there are vibrations around the projector and also help keep moving images more in focus.  Most of the time DLP is used in larger projectors just due to the size of the imaging unit and due to the fact that LCOS is cheaper and easier to accomplish in small applications, using DLP in a extremely mobile projector like the ODIN is nice because it still gives you that awesome picture experience that DLP offers but in a small easy to carry, battery powered package.
Another thing that is really cool about the ODIN is it's built in stand.  This stand allows you to basically have the ODIN at any angle when you are using it, you can stand it up vertically, or even just adjust the height of the image while it's horizontal.  Although a stand on a projector also is not news they are generally small screw like units that you need to manually adjust to get the image at the right level position.  With the ODIN there is no adjusting of feet or anything like that, you simply lift the projector to where you need it and that's it.  Although the stand that it offers is impressive, one major downside to the ODIN is the lack of a 1/4" screw mount on the bottom for hooking it up to a projector.  I know you may be thinking why would you need a tripod mount on a projector that already has such a nice stand and our answer to that is no matter how good the stand is on the projector, odds are you're going to run into a situation during its usage where you need to put it in a position that the built in stand can't support and you'll be wishing you could just hook it up to a tripod and go.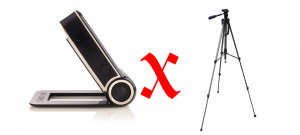 The ODIN also claims to be even more multi-functional by declaring that it is also a Bluetooth speaker.  While we do understand that the functionality is there for it to act as one we're more interested in the actual quality of the sound.  With two 4 watt speakers and no sub we're wondering if the ODIN is really going to sound better than a cellphone when playing music.  Either way it's definitely a cool feature and innovative use of the Bluetooth functionality in the projector but it's definitely not going to offer anywhere near the same sound quality as the beats pill or something of the sorts.
As for the specs of the projector, they are really nothing too special, it has a Quad-core ARM Cortex-A9 running at 1.6GHz and 2GB of DDR memory which again is a lot less than even the common cellphone has.  Obviously we haven't tested this to confirm but we feel it's going to require a light android build for it to remain snappy and functional to offer an enjoyable android experience.  Even if it is laggy however having the android OS built into the projector does bring about some awesome possibilities.  People who use computers lightly or just for office work may find that a product like this could literally replace their computer and allow them to have a functional CPU that they can take anywhere and display much larger than any laptop you could buy.  Here is a full list of the specs that the projector offers so that you can compare them with other models for yourself:
OPTICAL TECHNOLOGY
Display Technology: 0.3″ DMD (Direct Micromirror Display)
Light Source: LED (RGB)
Resolution: WVGA (854 x 480)
Contrast Ratio: 1000:1
Throw Ratio: 1.66:1 (meter)
Refresh Rate: 60 Hz
LED Life: 20,000 hours
115 Lumens ANSI
Size: 25″ @ 1 yard to Infinity
Manual focus
INTERNALS
Quad-core ARM Cortex-A9, 1.6GHz
Android Operating System 4.4 KitKat
2GB DDR RAM
Wi-Fi (B/G/N)
Bluetooth 4.0
16GB Internal Memory
All of the technical stuff aside, the ODIN seems like a great product that is definitely going to make room for its self in the Pico market.  The price-point may be a bit high at $525 for pre-order and $675 once it's fully in production so we're curious to see how many people will actually go out and buy one of these.  Especially when you can get a model like the LED android for only $449 and while you may be sacrificing sound quality and battery power you would be getting a unit over 5 times brighter.  Once the ODIN is out we will most likely be doing a full review on it so stay tuned to see more on this awesome product.