Currently out on the market there are a couple HDMI enabled pico projectors. Between the AAXA P3 and the Optoma 320 there isn't much left in the sub-$300 over 50 lumen category. Enter the AAXA P4 – X, a refreshed 720p HDMI enabled projector at 80 lumens.
Originally we had taken a look at the P4 before and thought that while it was a very adequate projector with an even better pricing model, it did indeed lack the definition and digital output that so many people are looking for. The new P4 – X is a revised P4 with a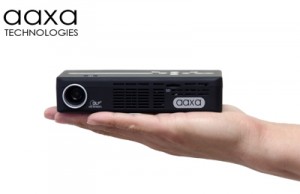 couple new bells and whistles and we couldn't be more excited to get our hands on it. It comes with the usual inputs that the P4 packed which was VGA, Composite, USB with the addition of the new mini-HDMI port. Unfortunately this version seems geared to people looking to expand their media sharing abilities as the P4 – X loses it's productivity package embedded into the system as well as the Windows CE operating system. Of course these options are more geared towards the business minded user looking to update and present Microsoft Office files.
The P4 is truly a portable projector as it sits as the thinnest projector that fits comfortably in a pocket and even better in a laptop bag or purse. At 5.6" long, 2.7" wide, and 1.2" tall you can be assured this tiny projector can definitely fit into most bags so can always carry a cinema experience ready to roll out.
Definitely a step forward in attracting the media friendly user, although the exclusion of Windows CE might turn off business oriented users, the lower price point and HDMI with a high resolution has me thinking about Angry Birds SPACE on a 60" screen.