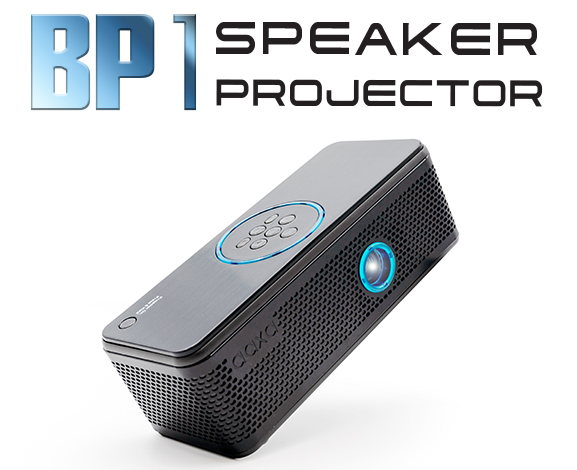 The projector company known as AAXA Technologies has just released its newest product that will change how we view audio and projection technology. The new BP1 is both a portable Bluetooth speaker and a projector! This audio and visual combo comes with a 12 Watt Speaker System and a 100-lumen pico projector, that can project a screen of up to 60″ in low lighting. To top it off, the BP1 also comes with a 12000 mAh battery pack that serves as a power bank, allowing you to charge your smart devices!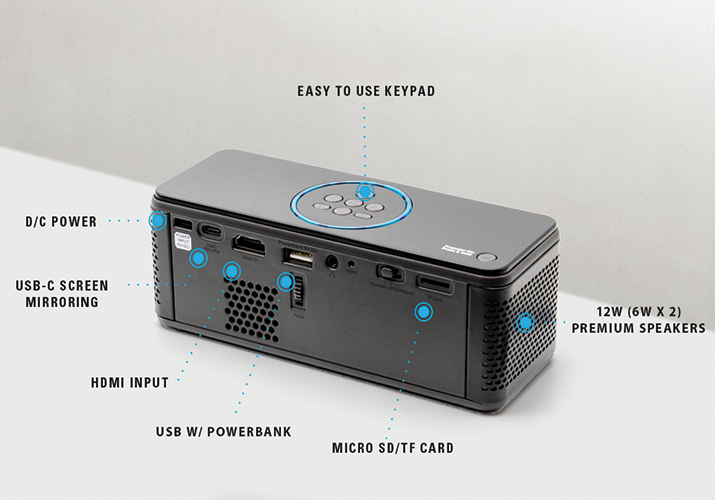 The BP1 has a throw ratio of 1.65:1 thanks to the built-in Texas Instruments DLP pico projector, along with a lamp life of 15,000 hours. The built-in pico projector utilizes a manual focus switch that is located with the rest of the digital ports on the back of the BP1. The BP1 is extremely versatile as it comes with HDMI, Micro SD, USB 2.0, 3.5mm, and USB-C ports. On a closer look at the back of this speaker projector, you will see a toggle switch which allows you to switch from the power bank to BT Speaker.
The huge 12000 mAh battery packed equipped with the BP1 gives this speaker, projector combo even more portability. The BP1 is listed as having a run time of 6 hours on a full charge. This makes it the ultimate portable device as users can either project their smart device by mirroring via USB-C port, or play music by connecting via Bluetooth. In terms of pricing, the new BP1 is extremely well priced for all of its features. At only $155 this portable speaker projector offers more versatility and portability than the portable speakers and projectors currently on the market for under $200! Check it out yourself on AAXA's Website by clicking here!